Discover dive sites in Menorca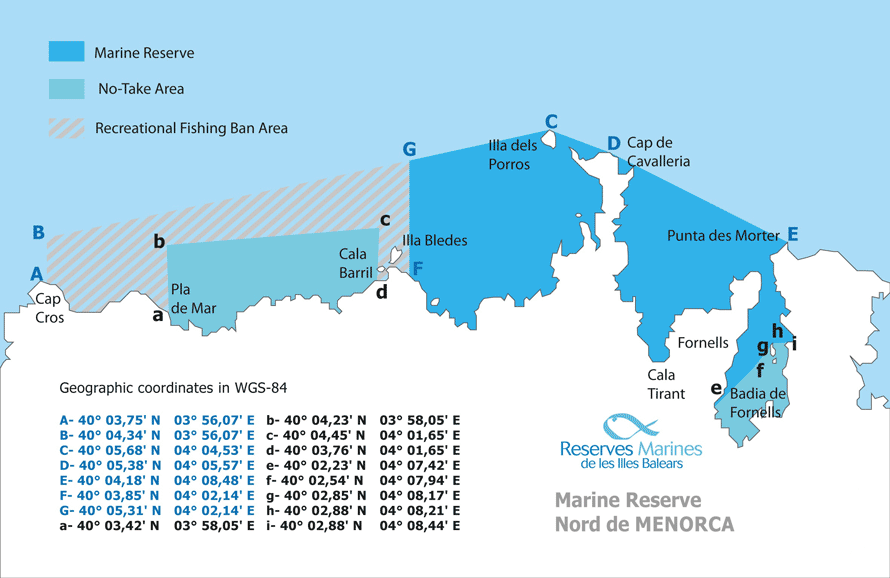 Diving at Son Bou Scuba is more than being underwater. We enjoy our work, which is why we only dive the best dive sites Menorca has to offer, and not just any sandy bottom with sea grass. According to your experience, we have about 45 dive sites, spread all over the island. Caves, drop-offs, wrecks and reefs offer unexpected colors and marine life. And all that with visibility averaging over 30 meters and water temperatures of 27 degrees in the summer months! Should you wish to dive a dive site that is not on our program, we are in principle happy to fulfill your wish.
We are one of a handful of diving schools licensed to dive Menorca's North Coast underwater reserve. Here you will find a wealth of fish virtually unparalleled in the Mediterranean. Currents are infrequent, except for boat diving.
Menorca is best known for its caves and caverns , which are among the most beautiful in the Mediterranean. Therefore, apart from diving in the underwater reserve, we have the 15 most beautiful caves for you in the program, such as the famous dripstone cave Pont d'en Gil, Swiss Cheese and the Belltower. Most of the caves can be dived even by divers with less experience. Usually they are large and the exit is always visible. In some caves we can even emerge to admire the stalactites.
Also beginners are at the right place: almost every morning we organize Discover Scuba diving in the sea and in the afternoon we give diving lessons and do Bubblemaker dives for the little ones in the pool (a 2-minute walk from the diving school).
Organization
Divers can sign up for a dive by entering their name on the dive list. This way you are guaranteed a place. The dive center opens daily at 09:00, around 09:30 we leave with our mini-bus to the dive site or the boat (these opening hours may vary slightly depending on the month).
Every morning we organize a so-called "Two-Tank Dive. We do most of our diving trips with one of our mini-buses; this way we always find a wind-free dive site. After the first dive, we will make a surface interval of about 45 minutes and we will provide a small snack, soft drink or water. At about 2:30 p.m. we returned to the diving school. Ideal for those divers who want to spend the afternoon with the family or tour the island.
Some dive sites are accessible only by boat. For that we have at our disposal a Whaly 500R Professional of 5 meters for 10 divers. For some boat dives, we rent a boat from other diving schools on the island (up to 12 divers). Of course we have communication equipment, oxygen and a First Aid box available both in the mini-buses and on the boats.
In the early and late season, we organize another boat dive in the underwater reserve in the late afternoon. Night diving is also possible, with a minimum of 4 divers (for both boat diving and night diving, this depends on the wind direction).
By the way, you do not have to wash your equipment yourself; we will do this for you. And if the walking distance from your hotel to the dive center is more than 5 minutes we will gladly pick you and your equipment up.
If this is your first time diving with us, it is recommended that you sign yourself up a day in advance. For this you will need your diving license and logbook. You also need insurance for diving accidents and decompression treatment. If you do not have this insurance, you can purchase it from us for a few Euros. If you have your own insurance, the policy should mention treatments in a decompression chamber, as well as the amount insured.
A medical certificate of health is no longer required in Spain since June 2020. Anyone wishing to dive or register for a course can now declare themselves fit to dive, provided the questionnaire on the first page of the diving medical examination can be answered "no. Click on this link for more information.
The asterisks after the name indicate the level of difficulty:
* = easy, ** = intermediate, *** = advanced, **** = special certification required
Although cave diving in Menorca is not difficult, we understand, it is not to everyone's taste. Do not enter a cave if you do not feel comfortable doing so. Let your dive guide know and we will find an alternative for you.
The difference between "cavern" and "cave" is, in a cavern we can always see the exit. In most caverns and caves in Menorca we can dive up, so these are also suitable for divers with less experience.
The Belltower **
Cala Morell *
Cala Morts *
Cala Viola (underwater reserve) *
Cueva de los Ingleses **
Diver's Playground *
East End */**
Es Caló Blanco *
Es Canutells *
Escull de Gobernador *
Faro D'Artrutx *
Fossil Cave ****
Grand Grotto ***
Horse Shoe Tunnel **
Illa de Porros Norte (underwater reserve) **
Illa de Porros Sur (underwater reserve) **
Junkers 88 wreck ****
La Catedral **
La Llosa del Patró Pere (underwater reserve) **
Lightning Corner **
Los Bloques *
Macaret Point *
Malakoff wreck ***
Moon Pool ***
Ocean Diver wreck **
Pont d'en Gil *
Puerta de la Iglesia ***
Punta de S'Alemanya *
Punta d'en Falet *
Rocas Marinas **
S'Algar Funnels **/***
Sa Roca Fondo *
Scorpion Cave ****
Seven Arches *
Slipway *
S'Olla (underwater reserve) **
Son Xoriguer Playa *
Submarine Rock */**
The Organ Loft ***
Tunnel Vision */**
Swiss Cheese **
West Point *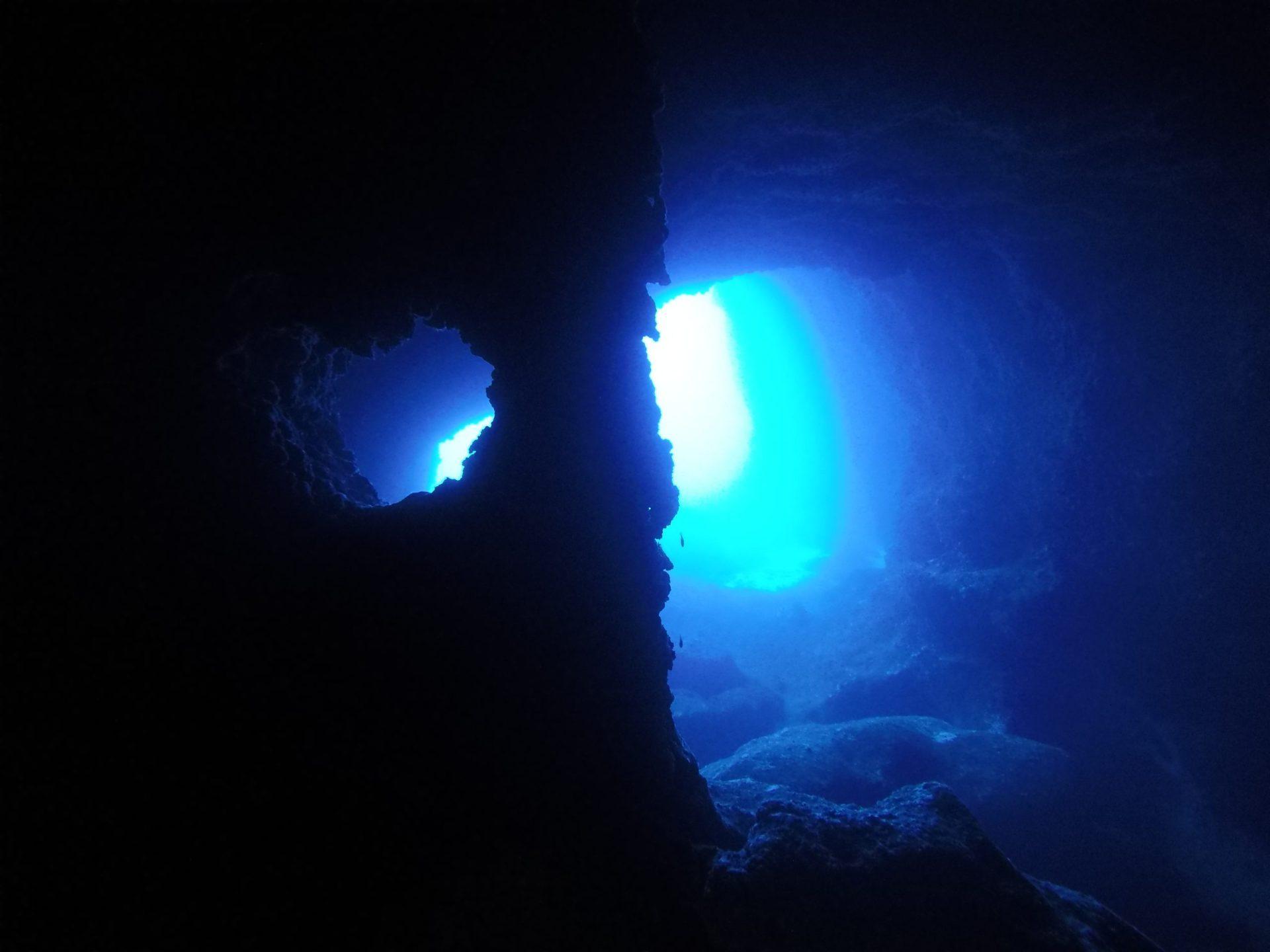 The Belltower **
Many of our divers consider this to be the best cave dive (cavern) at the Cap d'En Font. Also known as "Tom's Belfry." We can access this cave through two different enter entrances, after which we enter a large tunnel, which is about 30 meters into the rocky coastline of Cap d'En Font urges. At the end of this tunnel is a large bubble, where we emerge and admire the stalactites above us. The Belltower is connected to another cave, The Organ Loft, which, however, is only for very experienced divers intended.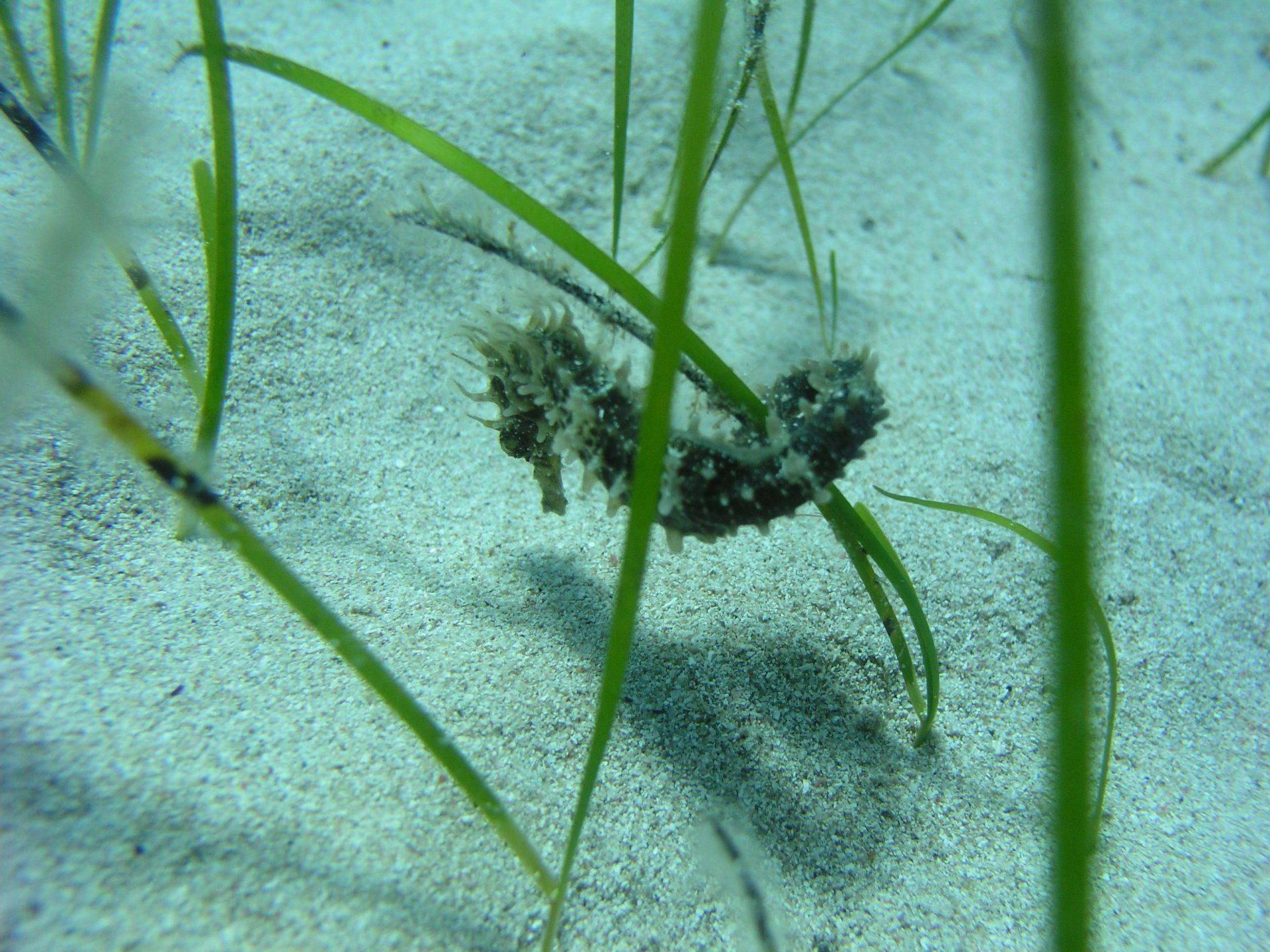 Cala Viola (underwater reserve) *
This dive starts from a small beach that gradually goes to a depth of 6 meters and is usually full of small fish and a few stingrays. Following the reef to the left, we find at a depth between 14 - 18 meters the remains of the 22-meter sailing yacht Chrisaldy, which ran onto the rocks here in February 1996. The remains of this wreck are spread over a large area and offer interesting settings for underwater photographers. If we keep following the reef to the left, we often see, at the level of a bunker from the Spanish Civil War, a large group of barracudas, as well as the remains of Roman amphorae.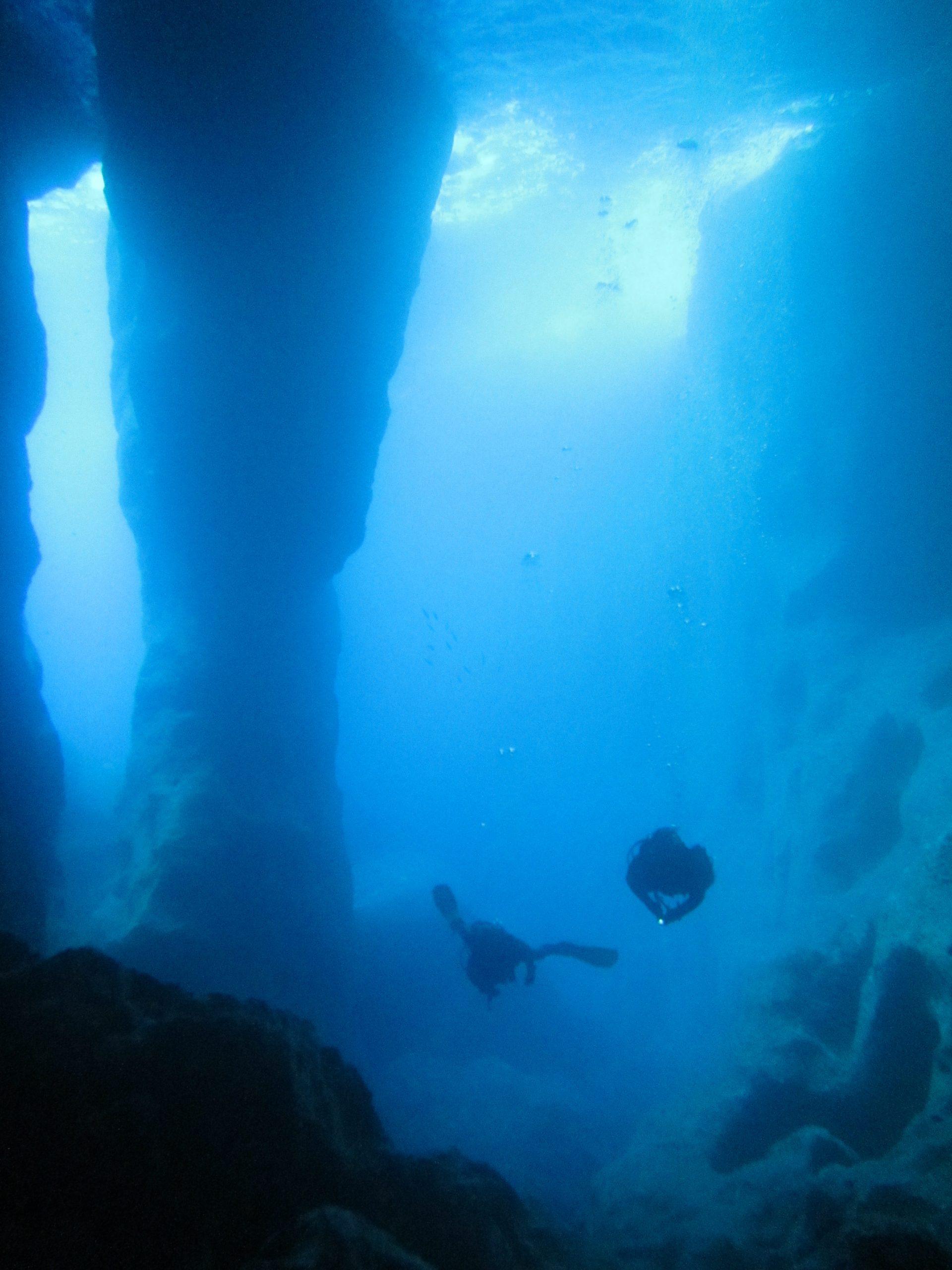 Cueva de los Ingleses **
Reach Cueva de los Ingleses with our boat from Fornells. Dee cavern is located at the right side after leaving the bay of Fornells, just outside the underwater reserve We anchor close to the entrance of the cave and begin the dive swimming away from the coast until we reach a depth of 28-30 meters. Here we can find mushroom-shaped admire formations with groupers and some lobsters. Before the bottom time runs out we swim to the entrance of the cave at 14 meters. The opening of the cave runs through on the surface, making it possible to surface inside. Inside search for shrimp, lobsters, crabs and other crustaceans typical of these environments. Looking back toward the entrance, we can enjoy the beautiful backlight with the left a spectacular column. On the left wall, at a depth of 5 meters, we can see a tunnel in of about 40 meters long formed by 4 rooms. Because of the depth and the tunnel in the cave, this is a dive site for experienced divers. For less experienced divers, the dive profile, however, are adjusted.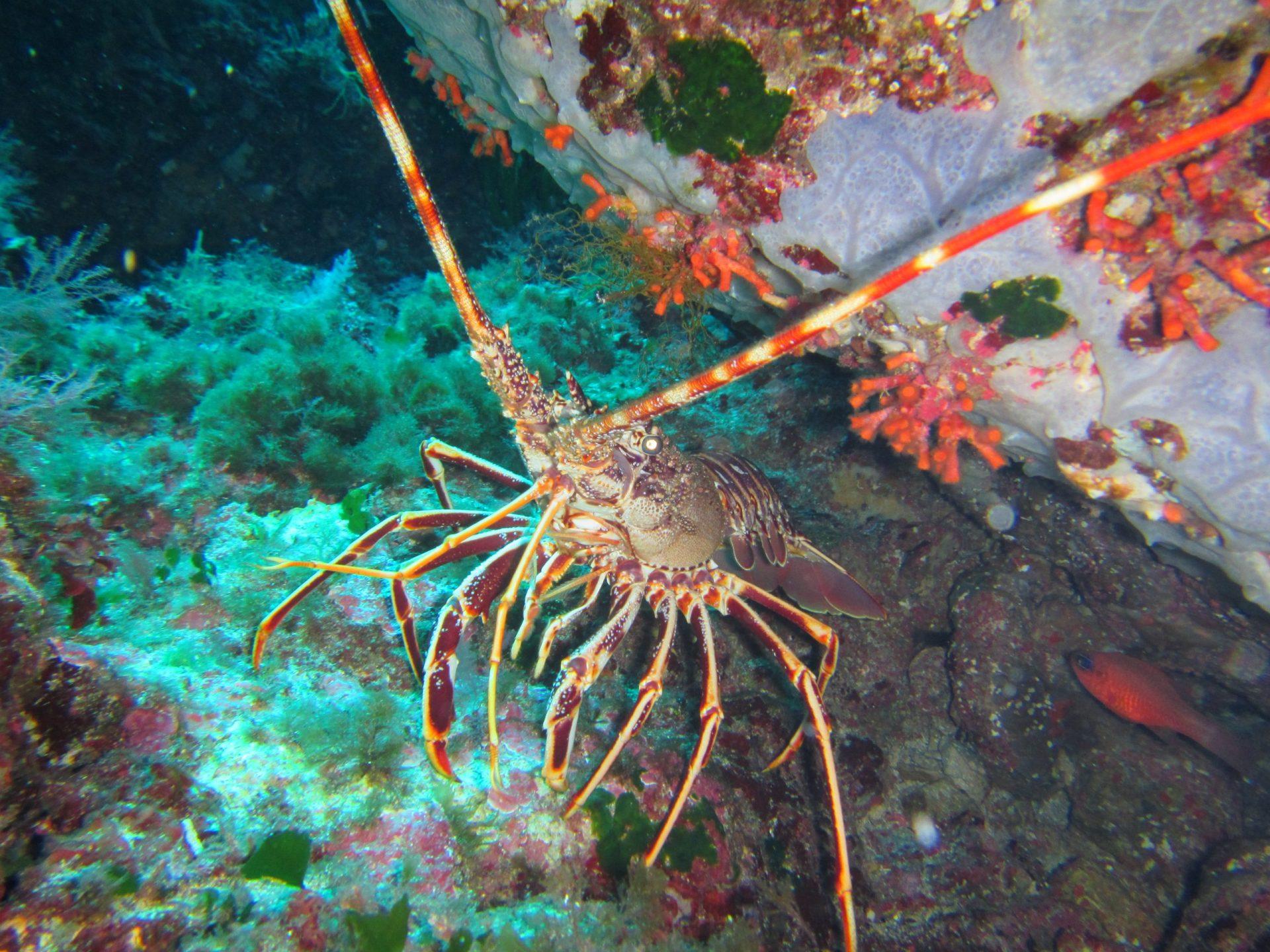 East End */**
Located in the Punta Grossa area on the north coast, this dive site is one of our favorite locations. Here we find all the ingredients for a fantastic dive; depths of up to 30 meters, a stunning landscape with huge boulders and many marine life such as stingrays, flying gurnards, moray eels, nudibranchs, octopuses and grunts. A dive for all levels because the dive profile is can be easily adapted to one's experience.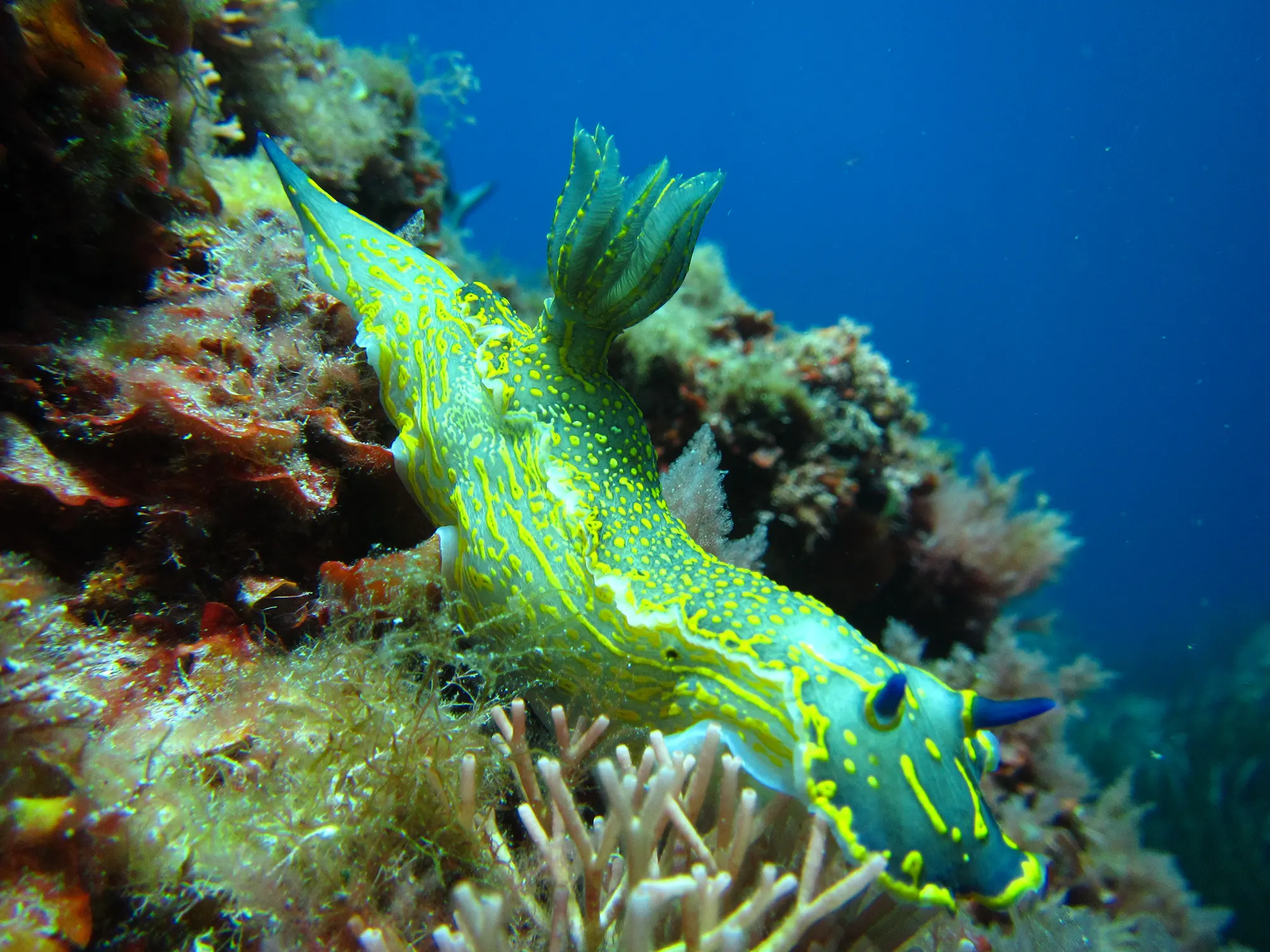 Diver's Playground *
Average depth 18 - 22 meters. Giant rocks and stones, combined with a steep wall, guarantee an unforgettable dive. Here we find tunnels, small caves and canyons everywhere. Murres, squid and colorful nudibranchs can be admired here, sometimes seahorses as well. An ideal place for (macro) photographers, there is plenty to explore here. Many of our divers have already told us, one dive is not enough to see everything.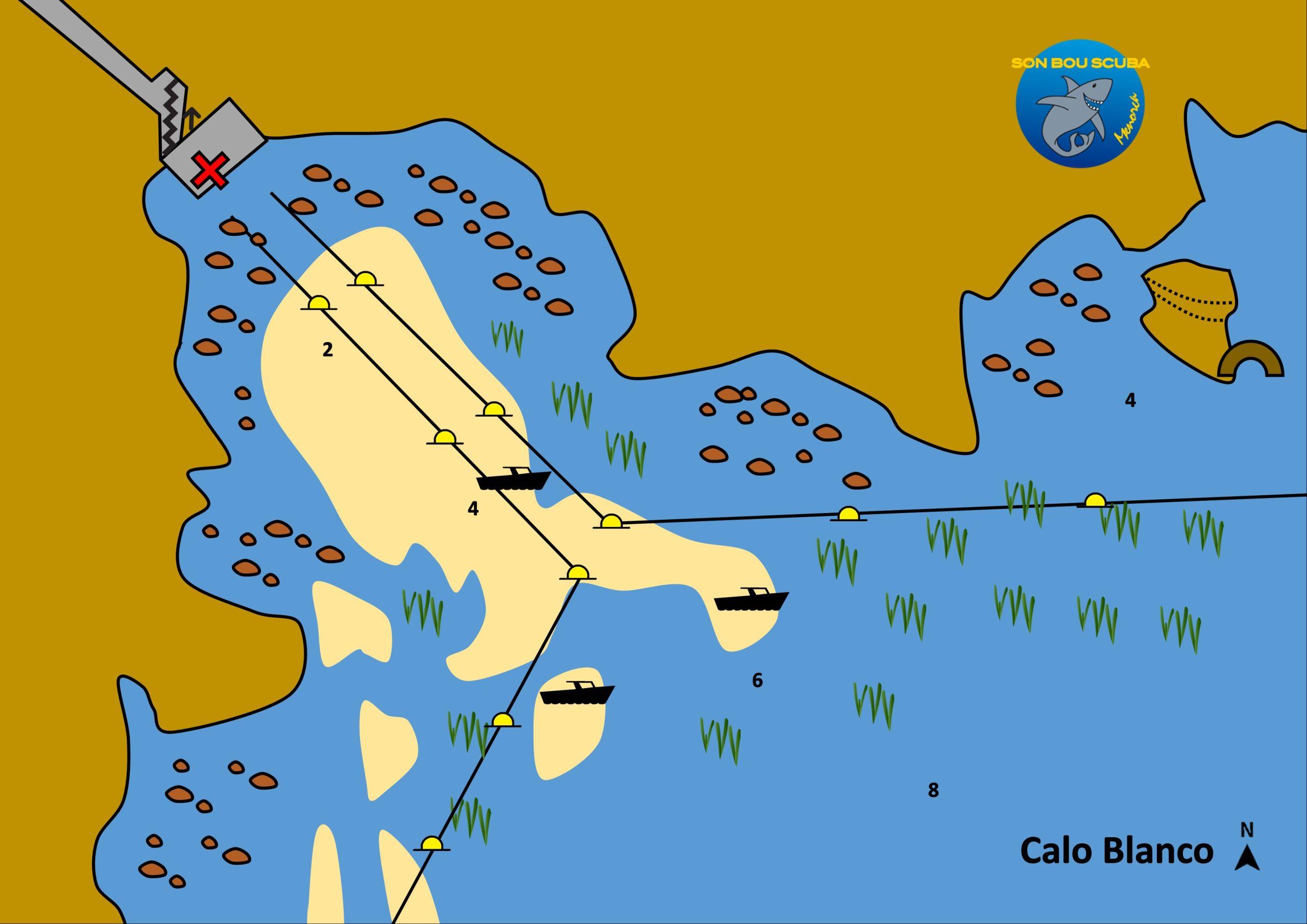 Es Caló Blanco *
An ideal dive site for beginners and Open Water students with a large platform and easy access to the water. The anchor blocks placed here and there provide shelter for cuttlefish and octopus. We can also find needlefish here. The bottom of this bay consists of rocks and sea grass on the sides, with white sand in the middle. Because this bend is quite sheltered, we often have excellent underwater visibility here.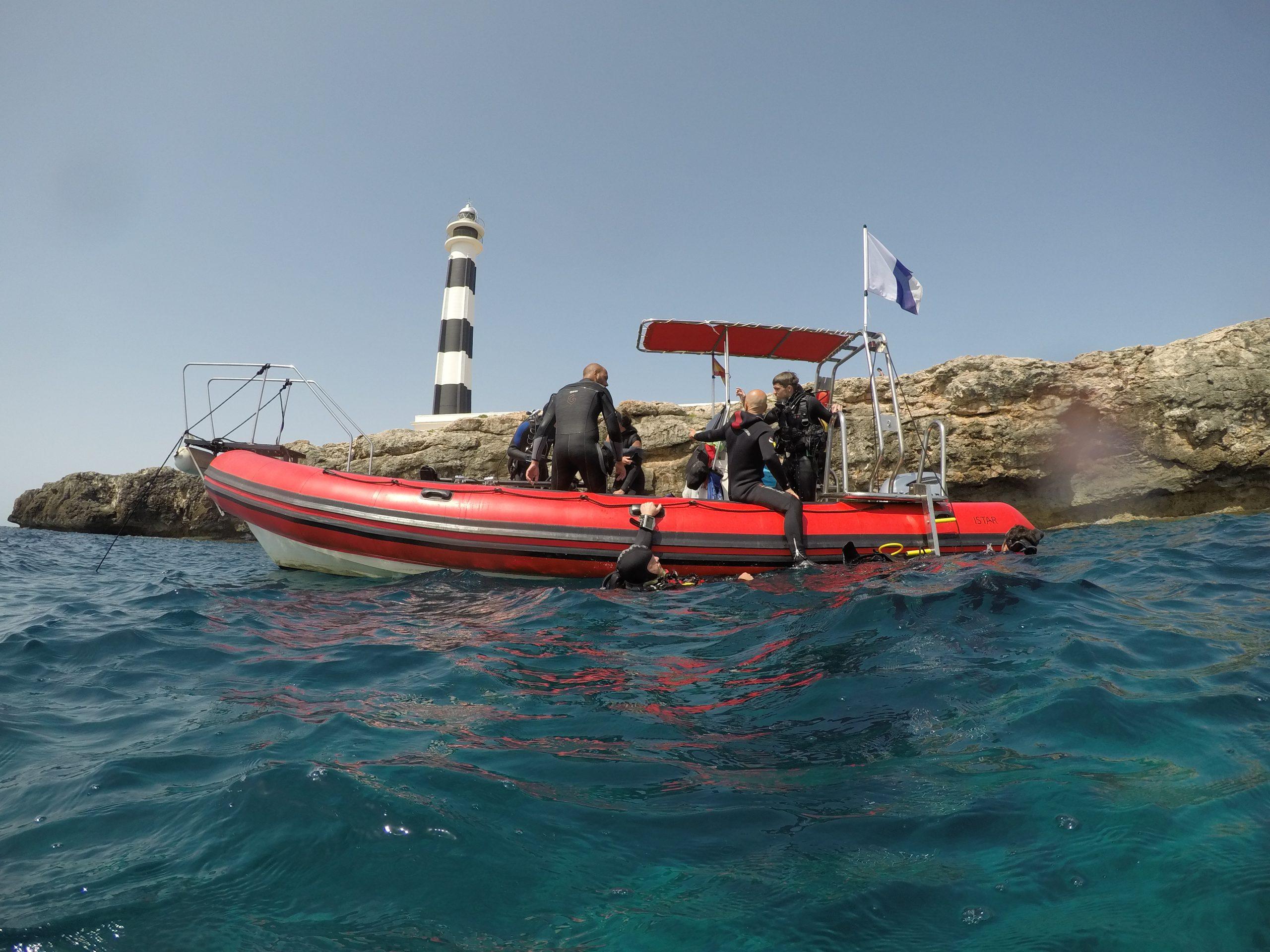 Faro D'Artrutx *
We usually do this dive as a repeat dive after a dive on the wreck of the "Malakoff". Below this lighthouse near Cala´n Bosch we find not only a wealth of marine life, but also the landscape is varied with canyons, a steep wall, overhangs and caves. Every year in May, large stingrays come here to spawn. Although there are fewer of them every year, this dive site is definitely worth a visit.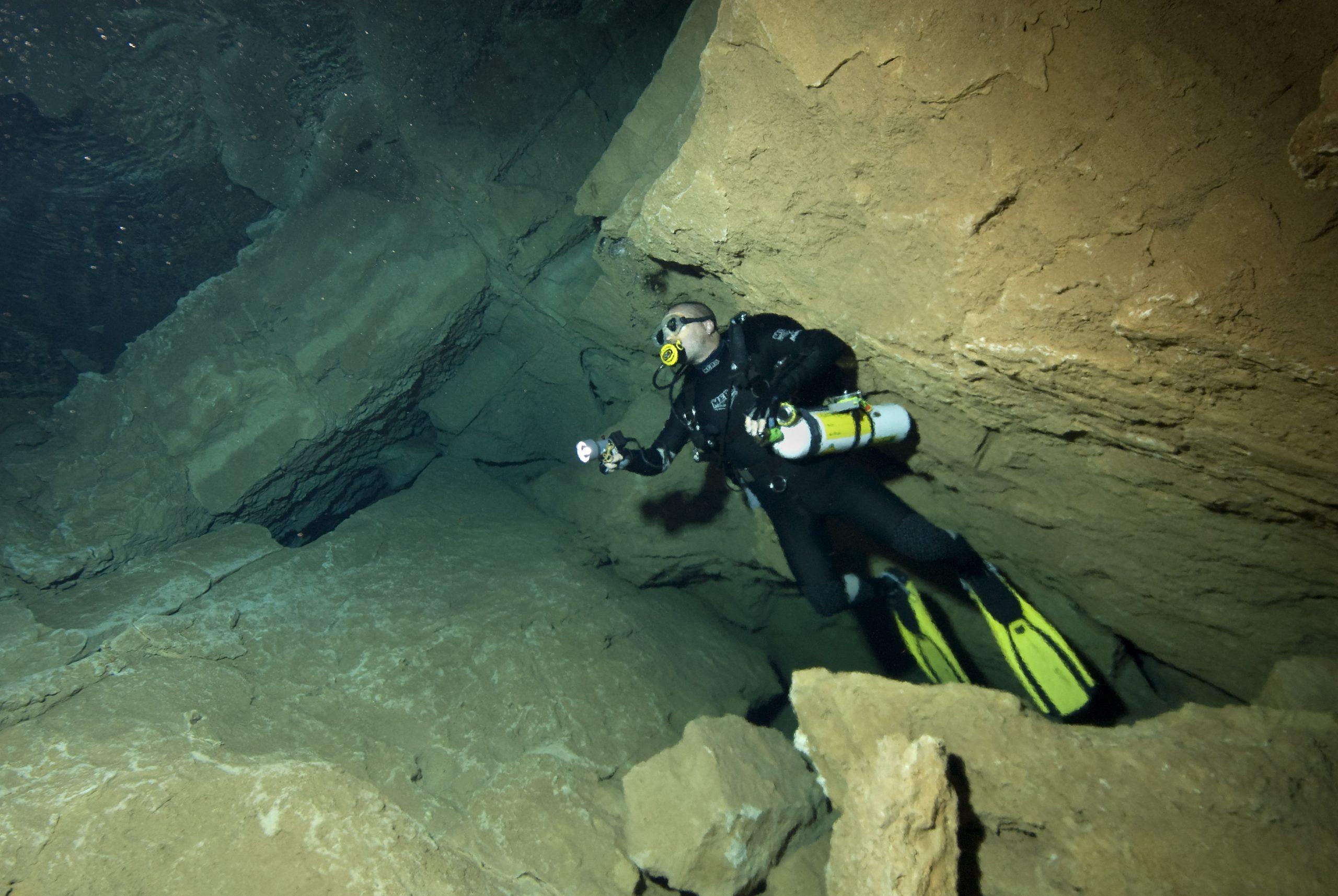 Fossil Cave ****
Another attraction on Menorca's south coast. At the end of a large overhang, on about 13 meters deep, we find the three small openings that lead to this cave. This 30-meter-long cave gets its name from the many fossils, which we found in the ceiling can see. At the end of this cave is a small bubble, where we emerging through a freshwater layer. Truly a breathtaking dive! Unfortunately only suitable for divers with a cave diving license because the entrance/exit is not always visible.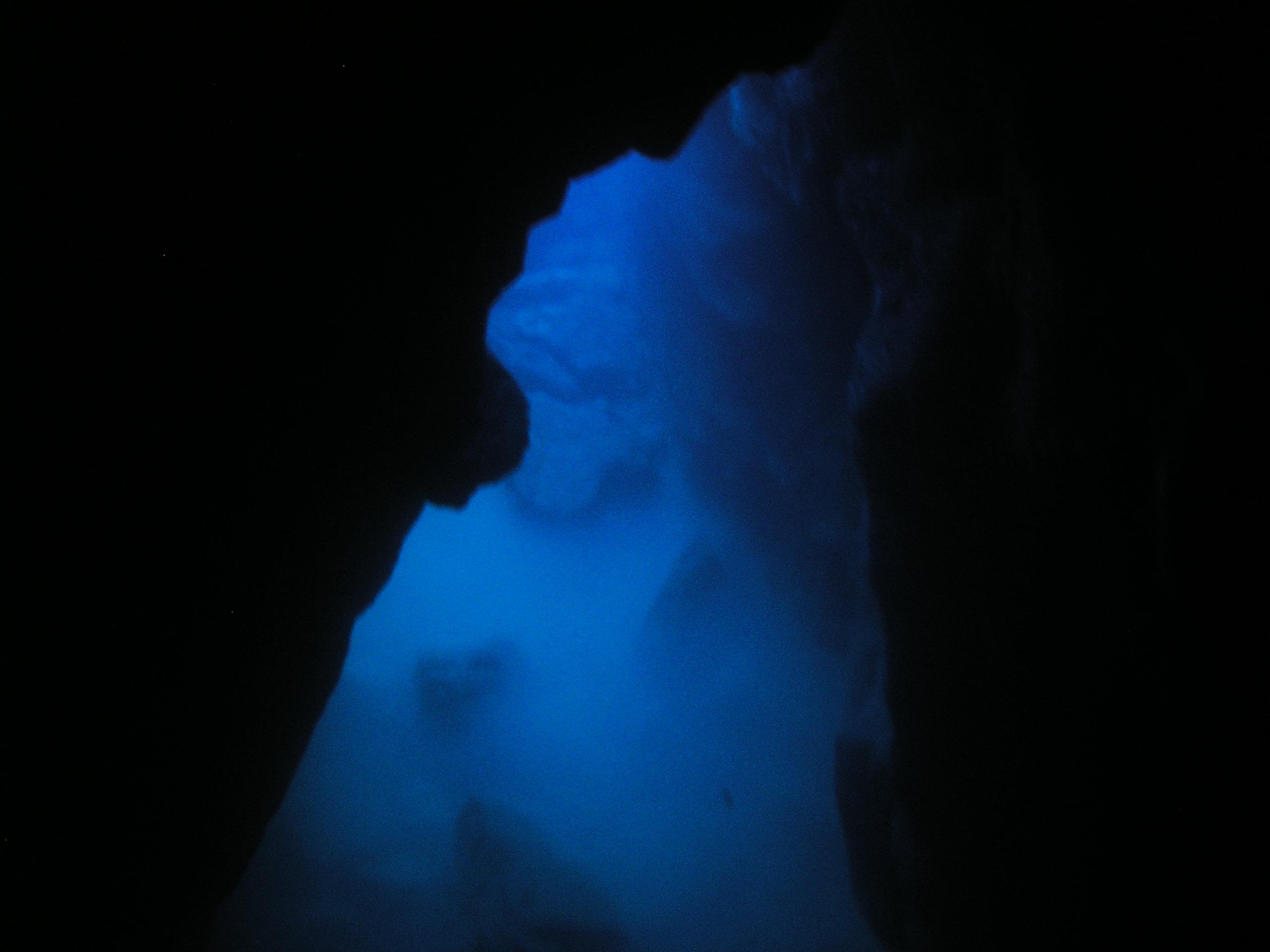 Grand Grotto ***
Swimming along a steep wall, we reach the entrance to Grand Grotto, which starts at 16 meters and ends at 30. In the cave we have a choice, to follow a tunnel to the left or go straight ahead. In either direction we can emerge. If both tunnels are dived in one dive, divers must keep an eye on their dive computer and make safety stops because of the many ascents.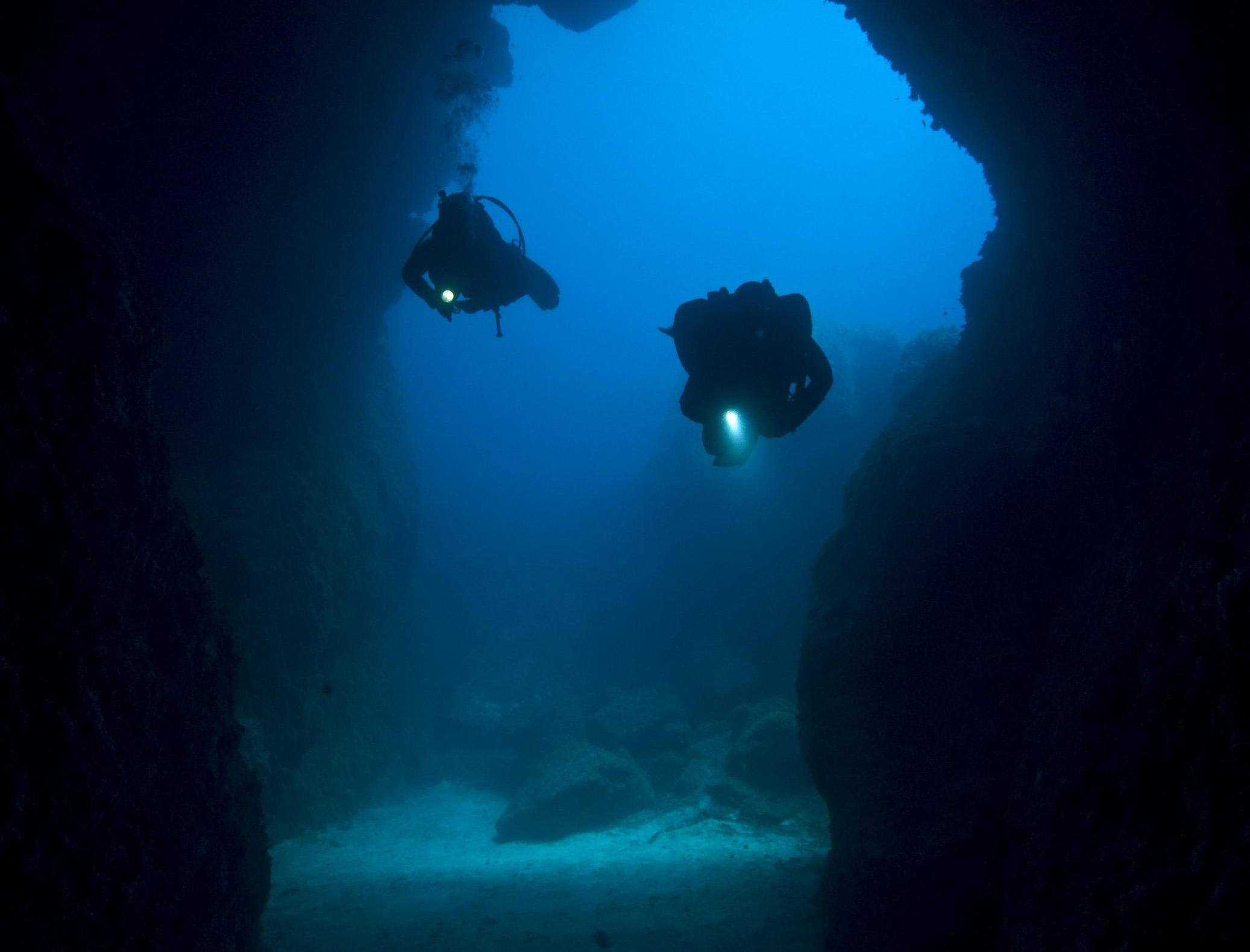 Horse Shoe ***
The Horse Shoe is best described as a tunnel with a 90-degree angle. We usually bed the Horse Shoe as a shortcut on the way to the Moon Pool. After a wide opening, the tunnel quickly narrows and ends in a so-called chimney. Here we swim up a few meters, searching for shrimp and crayfish in the meantime. After reaching the ceiling of the chimney, we also see the exit of the tunnel.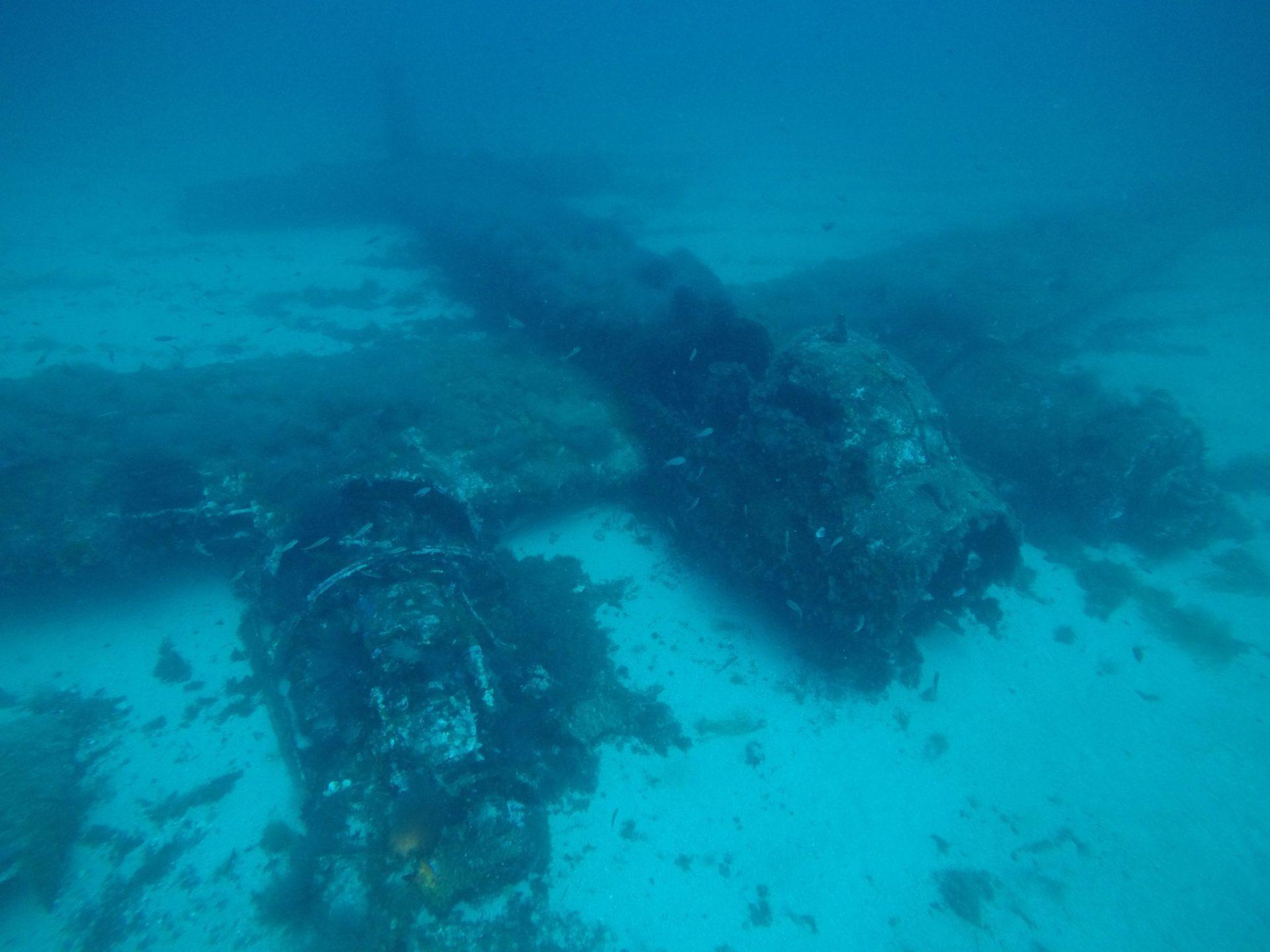 Junkers 88 ****
On Feb. 24, 1943, this German Ju-88 A4 light bomber, stationed at Sicily, accidentally off course after attacking targets in Algeria. Upon seeing the lighthouse of Isla del Aire and with little fuel available, the pilot decided to make a emergency landing in the sea, in front of a trawler carrying local fishermen. All 4 crew members survived the landing. The plane now rests at a depth of 47 meters and that requires a Tec 50 certificate. We schedule this dive upon request, in collaboration with one of our partner dive centers.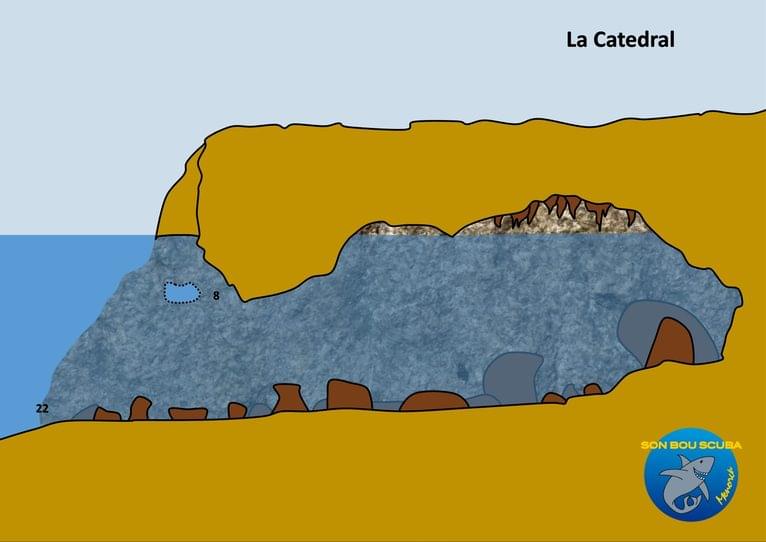 La Catedral (Cap d'En Font) **
Beautiful cave with an immense large opening. Largest cavern on the south coast, perhaps the largest in all of Menorca. As we emerge into this cave, 6 meters above us we see the stalactites hanging from the ceiling. When we turn off our dive lights, the light from outside the cave turns blue. Definitely one of the best dives in Menorca. Maximum depth about 20 meters.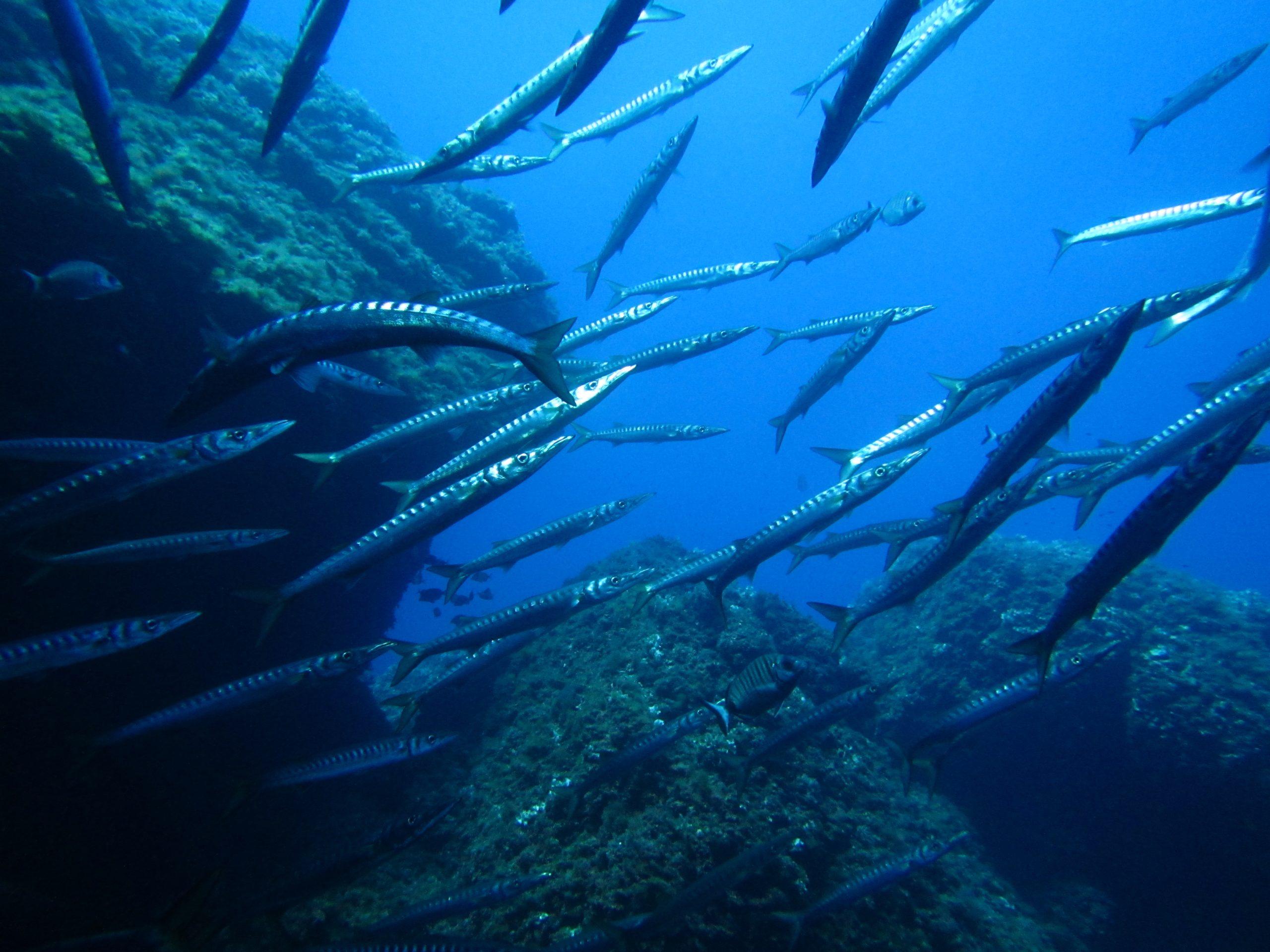 La Llosa del Patró Pere (underwater reserve) **
La Llosa can be considered one of the best dive sites in the underwater sanctuary, with a resident group of about 200 barracudas. Large groupers and octopus can also be spotted here. Because of the depth (up to 25 meters where the barracudas are) and the chance of strong currents this is a dive site for experienced divers.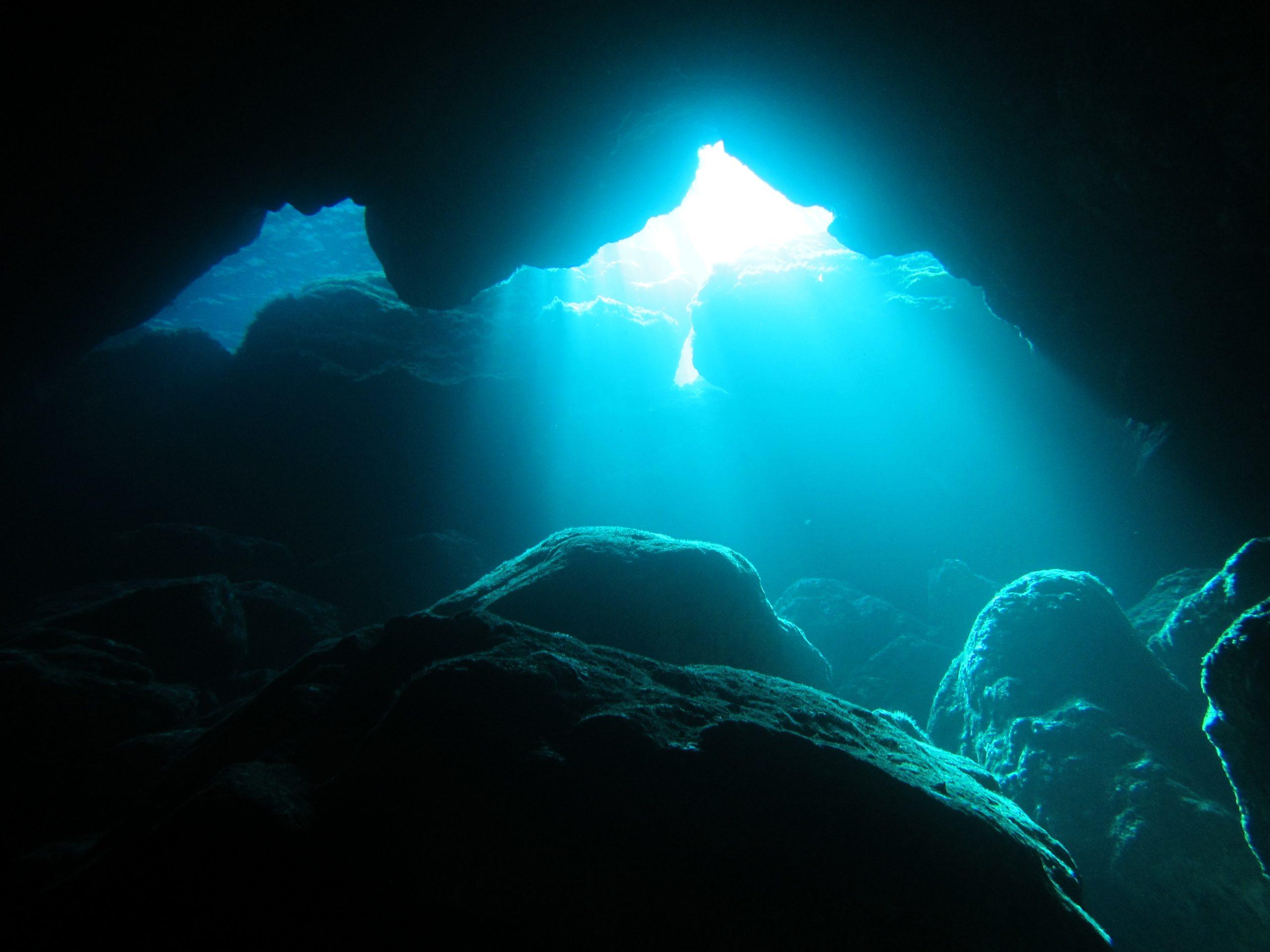 Lightning Corner **
This dive site is also known as Es Racó des Llamp or Las Cuatro Cuevas, and is located just east of the entrance to Fornells Bay. We anchor the boat near a huge rockfall caused by lightning strikes years ago (hence the name). Following the wall, we find the entrance to the first cave, which opens into a large chamber with openings to the surface that reveal a beautiful light. This cave is connected to another and once we leave it, we swim with the shore on our right and visit each of the caves that appear along the route; some larger, some smaller, but they are all equally interesting. Aside from the caves, the sea floor is full of large boulders that sometimes allow us to get underneath and then out through another hole. At the end of the dive, at 17 meters, we find a majestic arch. We usually need two dives when we visit this area because it is vast and there is so much to see.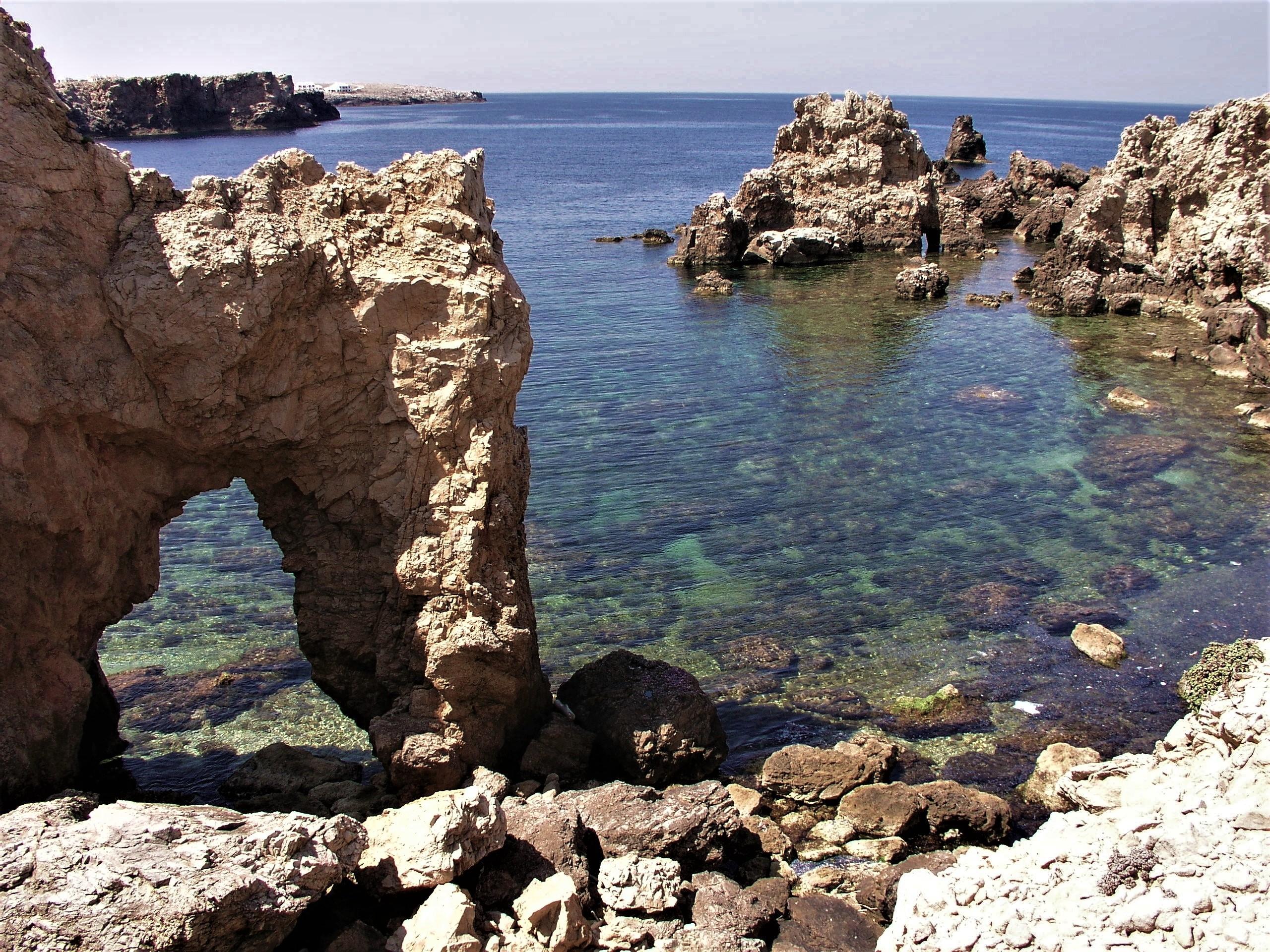 Macaret Point *
The typical steep walls of Menorca's north coast continue underwater here, guaranteeing a beautiful underwater environment. Small canyons and tunnels, combined with large schools of fish, provide an ideal backdrop for underwater photography. A large group of barracudas has its territory here. Excellent land dive when the wind blows from the south. Depth: 10 - 22 meters.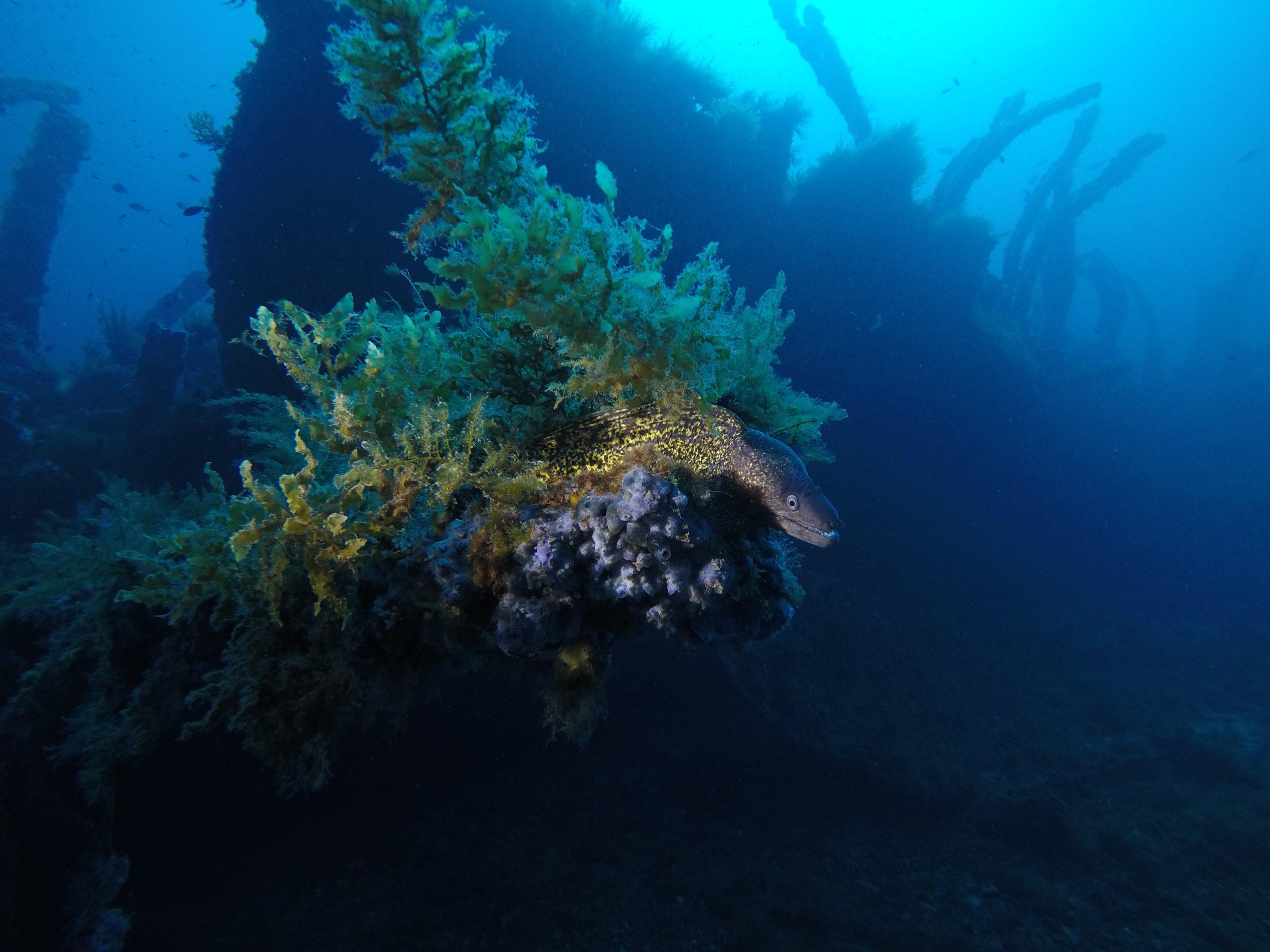 Malakoff wreck ***
During a storm in January 1929, the French steamship Malakoff ran into a rock formation known in Menorca as Escull de Gobernador and sank in just 7 minutes. This famous wreck stands upright on the sandy bottom, at a depth of 40 meters. The deck is located at approximately 32 meters. In the 1950s, salvage divers blew away the entire superstructure with explosives. Today, the Malakoff forms an artificial reef some 105 meters long. Because around the wreck is only sandy bottom, we find an unprecedented abundance of fish here, which also attracts many large (predatory) fish. A group of more than 100 barracudas has its permanent home here. We also see conger eels, large groupers, scorpion fish and even a rare species the Gray triggerfish. Often Sometimes divers find remnants of the cargo in the wreck; ceramic tiles and Chinese porcelain. Just recently, a ship's compass could be salvaged.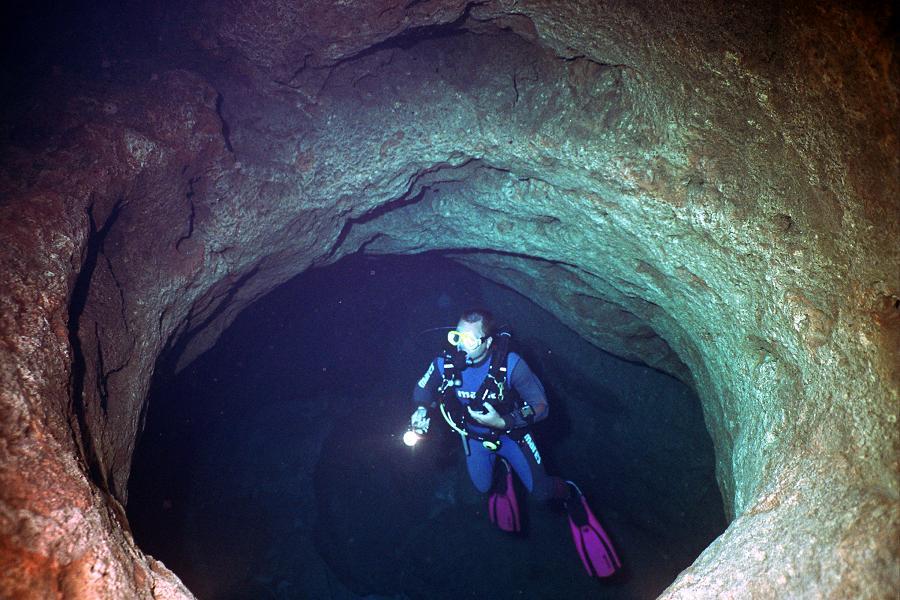 Moon Pool ***
A cave dive for experienced divers. After passing a magnificent steep wall, we reached the large entrance at a depth of 13 meters of Moon Pool, one of Menorca's most famous caves. A tunnel leads us through many bends some 30 meters into the rocky coast of Cap d'En Font. While we have these following tunnel, we swim over large rounded pebbles until we reach reaching the end a round room. Here we make our safety stop, after which we surface and swim through a freshwater layer. We are now in a small room; the so-called Moon Pool. On the way back, we look for conger eel "Billy," crabs and shrimp, which we find here in large numbers.
Ocean Diver wreck **
The Ocean Diver is a small Dutch freighter about 23 meters long. The was last used for tobacco smuggling between several Mediterranean ports and North Africa, and eventually seized by the Spanish Coast Guard. After several years of rusting in the port of Mahón, the Ocean Diver was made into a sunk to create an artificial reef. Directly in front of the diving school is the wreck upright on the seafloor at a depth of 28 meters and provides a habitat for grouper and sea snails.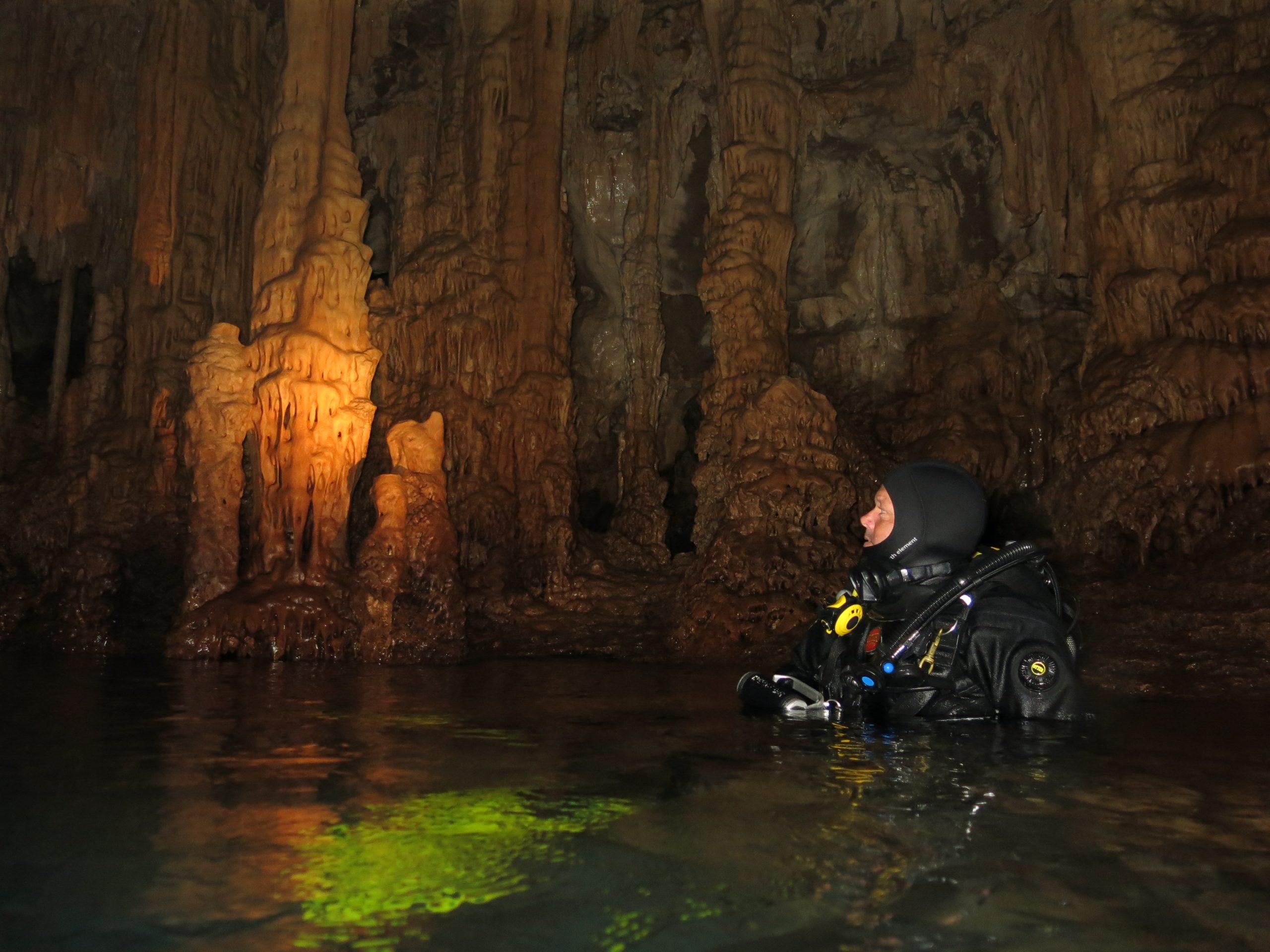 Pont d'En Gil *
This most famous cave (cavern) in Menorca (220 meters long) should not be missed in any logbook! Pont d'En Gil is by far the best dive in the western Mediterranean. The entire cave is filled with stalactite formations, both on the ceiling and at the bottom. Because there is almost always the possibility of diving up, this cave is also suitable for beginners. The opening of this cavern is at a depth of only 12 meters. After a short dive, we emerge into a giant room. Once inside, you can float and admire the stalactites overhead while snorkeling. At the end of the cave is a small beach, where we go ashore to share our impressions.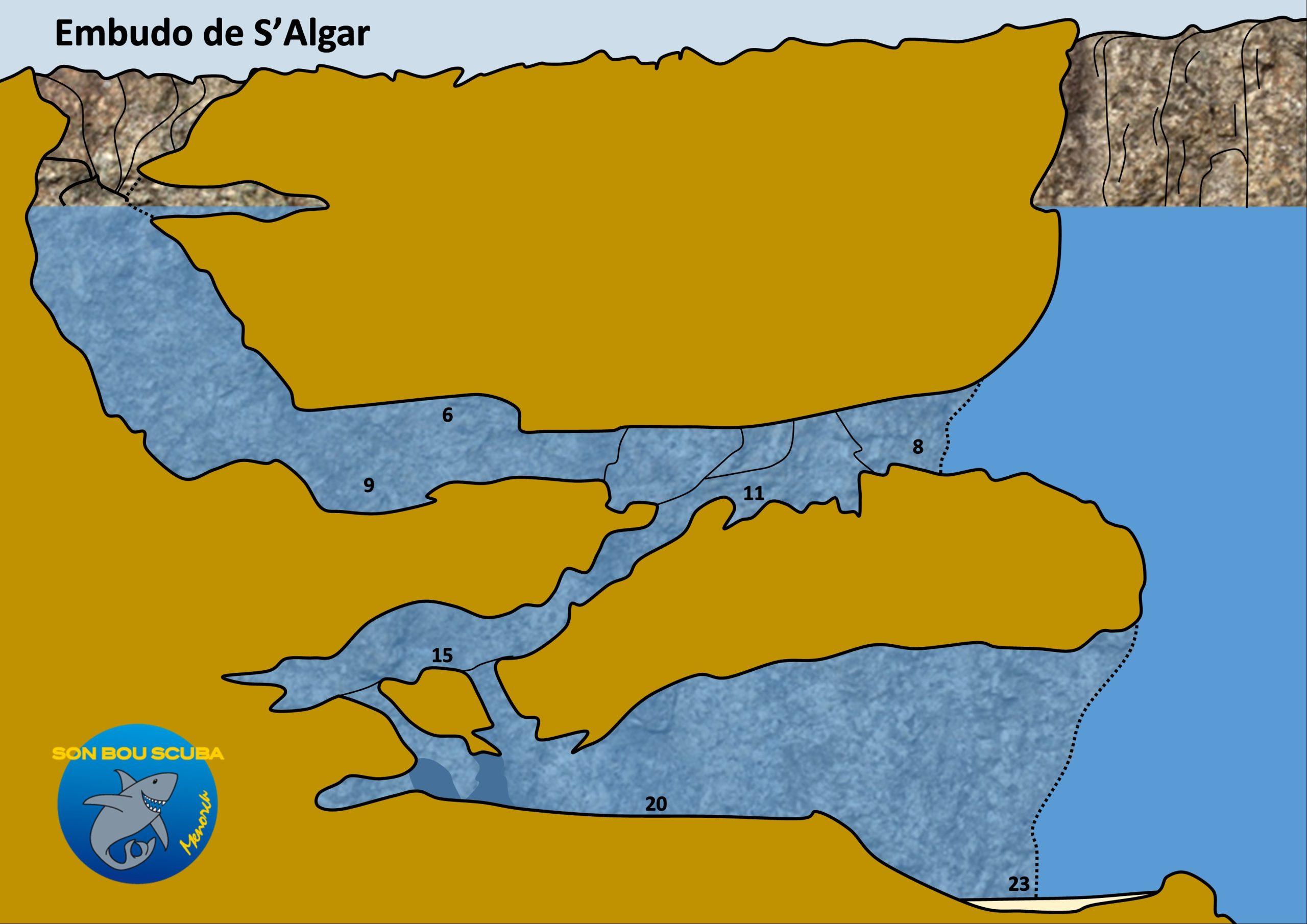 S'Algar Funnels **
Two spectacular caverns one above the other, connected by a tunnel. The upper cave, whose entrance is located at 8 meters, leads to a so-called "cave. 'chimney' in the rocky coast of S'Algar. Through the tunnel to the lower cave, we enter a practically closed chamber, which is connected to the lower cave. The semicircular opening of the second cave is so large that daylight reaches the end of the cave. The maximum depth in the lower cave is 26 m. Once outside, if desired, we can reach a depth of more than 35 meters.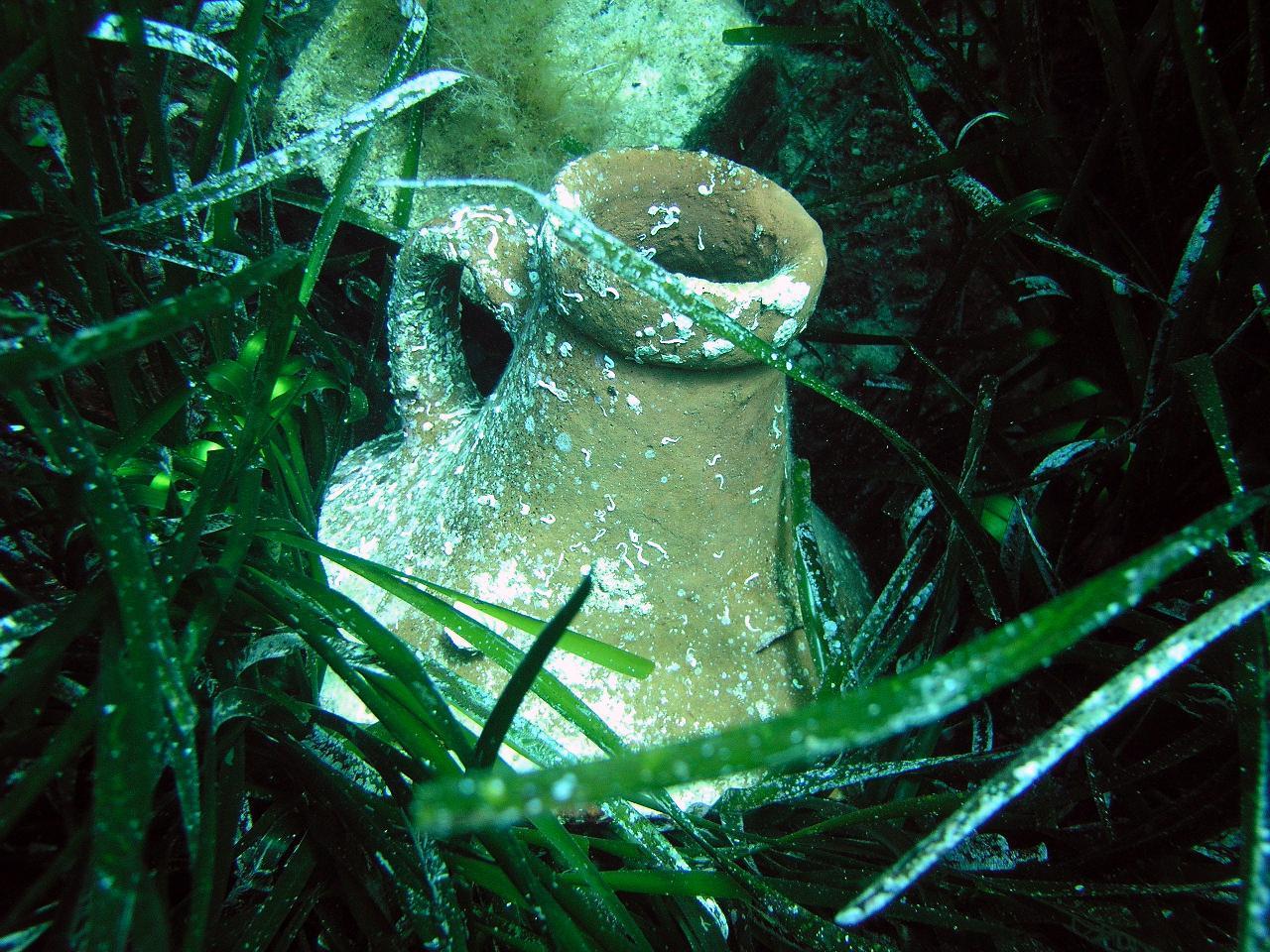 Sa Roca Fondo *
A sheltered cove with stunning views of Menorca´s south coast. The bottom consists mainly of rocks and sea grass, with sand here and there. Regularly here we see large groups of borne mackerel and, in spring, barracudas. Among the sea grass we find large mussels and starfish, on the sand sometimes small thornback rays. The further out we swim, the bigger the fish get. In ancient times, Sa Roca Fondo was probably used as an anchorage, as evidenced by the pottery shards still found.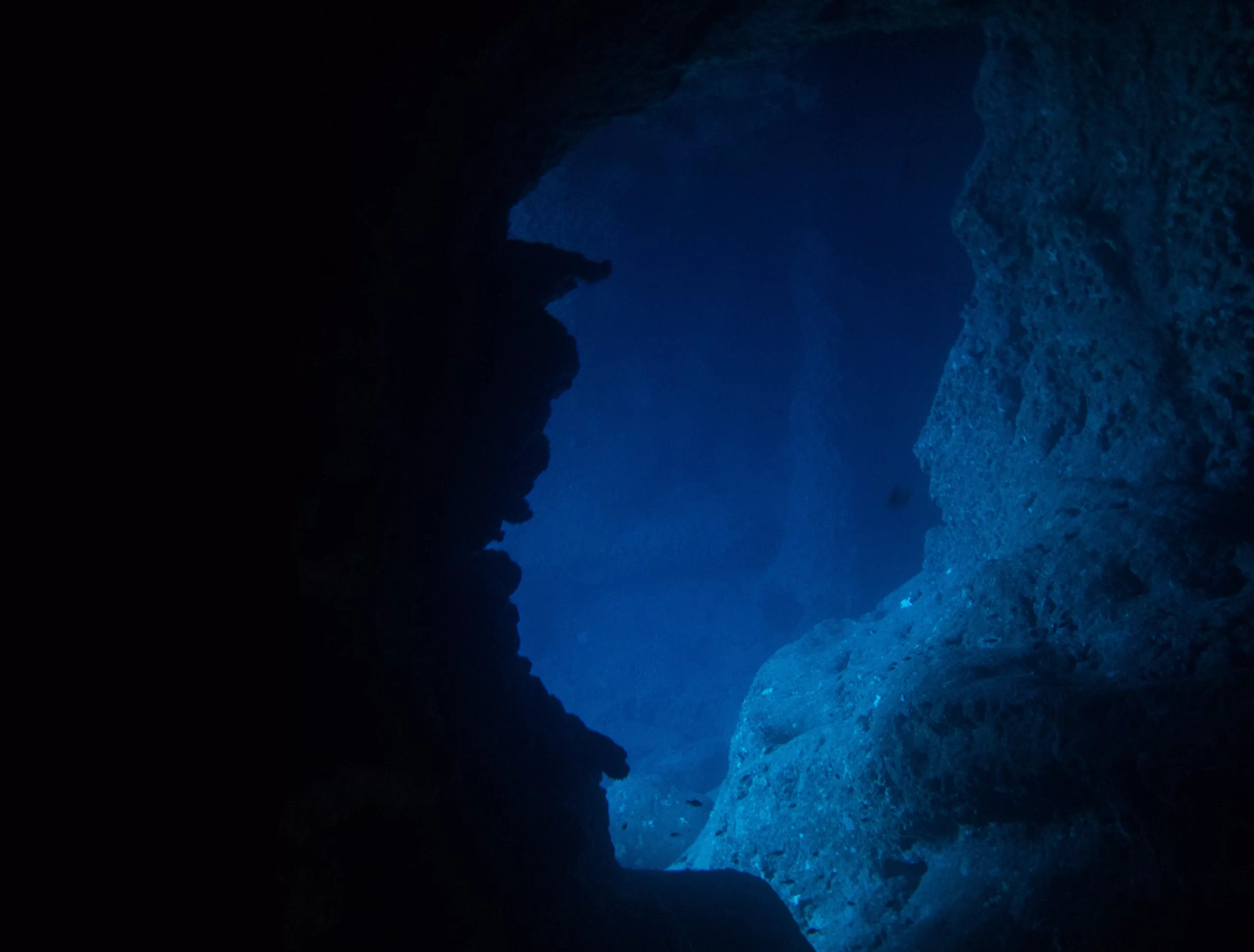 Scorpion Cave ****
This cave in Cap d'en Font is hardly known and even less explored. After the entrance tunnel a small opening in the rock face is located to the right a small room with a narrow passage in the bottom. Behind this restriction is a tunnel visible that emerges some 200 meters further into the Belltower. Scorpion Cave is only to be dived with sidemount configuration and with a cave diving license.
Seven Arches *
The underwater landscape of this dive site is a real surprise! A labyrinth of different canyons, tunnels, steep walls and overhangs make it playful. Due to the shallow depth (from 4 to max. 14 meters) an easy dive and very suitable for underwater photography.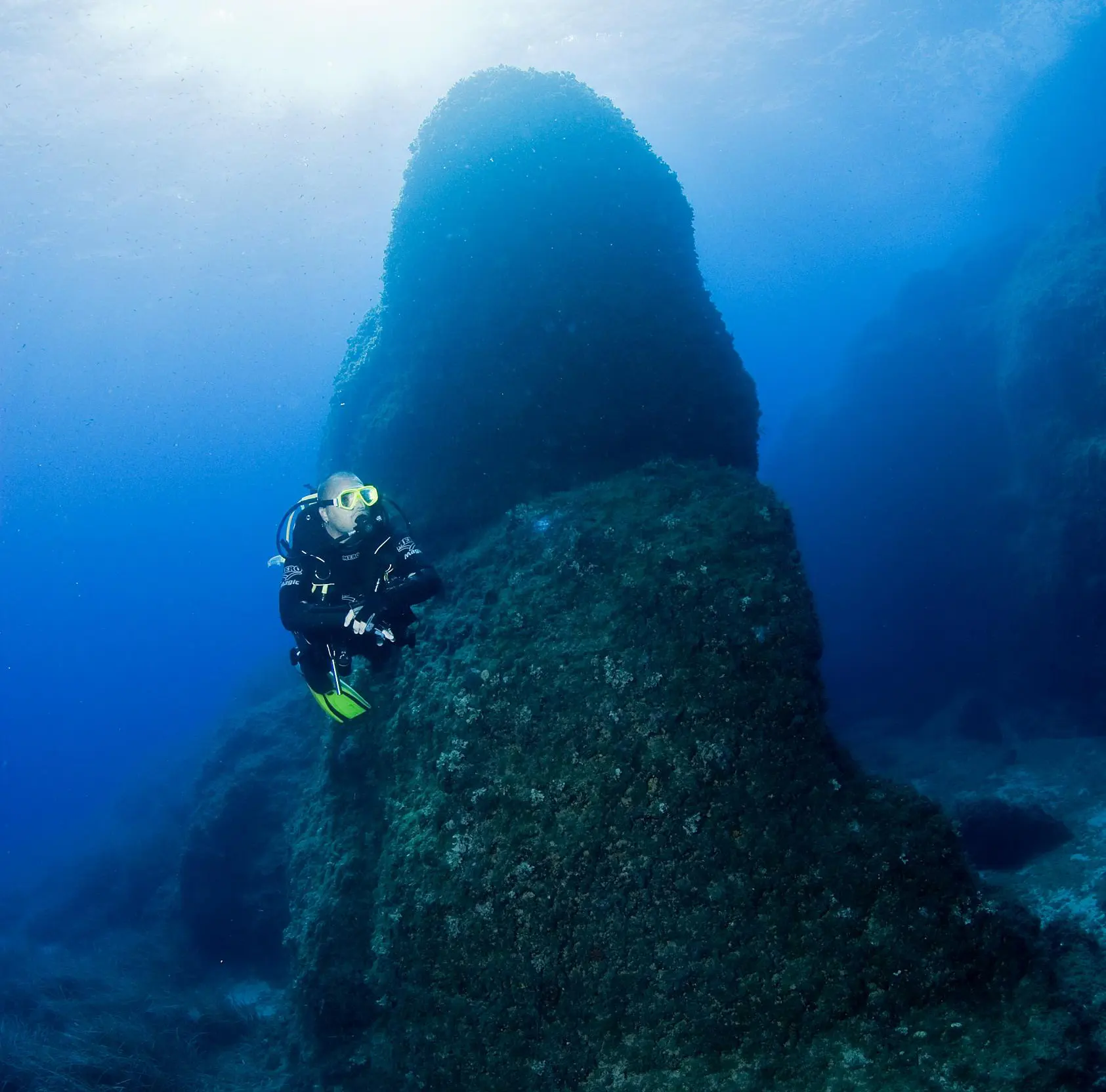 Slipway *
This small cove in the vicinity of Cala en Blanes is between 6 and 10 meters deep and sits Full of octopus, nudibranchs and sometimes barracudas. At the end of the bay come we at an imposing drop-off to 18 meters deep, running slowly to 23 meters. To the left, we see a large group of boulders, called Los Bloques, which are a interesting gathering point for large schools of fish, nudibranches and barracudas. To the right is Submarine Rock with an impressive canyon. Behind this canyon, at about 22 meters deep, we often find a large group of barracudas and borne jacks. We also sometimes see tuna of up to 2 meters passing by here. Also located here is a small amphora field, as well as the remains of a Roman wreck.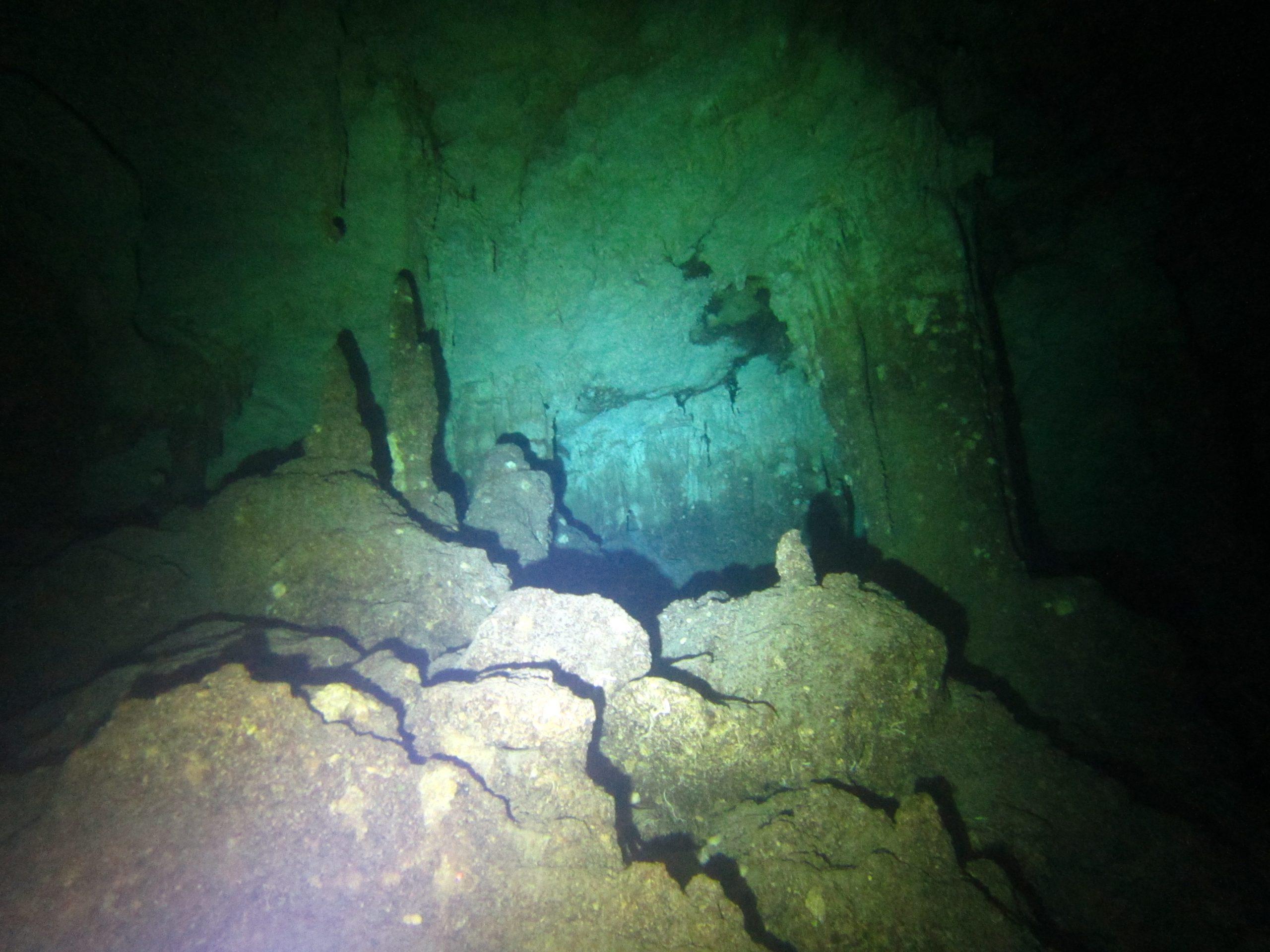 The Organ Loft ***
Only for very experienced divers or certified cave divers, as the bottom of this cave consists of very fine sand. Combined with a ceiling height of only one meter, one wrong fin stroke is enough to instantly reduce visibility to zero. We follow a long tunnel that bends sharply to the left and then turns back toward the exit, with the height of the ceiling at the end being only about 60 centimeters. Dripstones show, that this cave was above sea level thousands of years ago.
Tunnel Vision */**
This dive site is located in Cala en Blanes. Through a shallow crevice we enter this tunnel inside. Inside, the tunnel splits in two and comes together again just for the large opening at 12 meters. In the tunnel, we often see shrimp, octopus and crabs. Outside the tunnel is a beautiful drop-off to 25 meters where we often encounter barracudas. We can return via the tunnel or we follow the impressive steep wall outside to return to the starting point.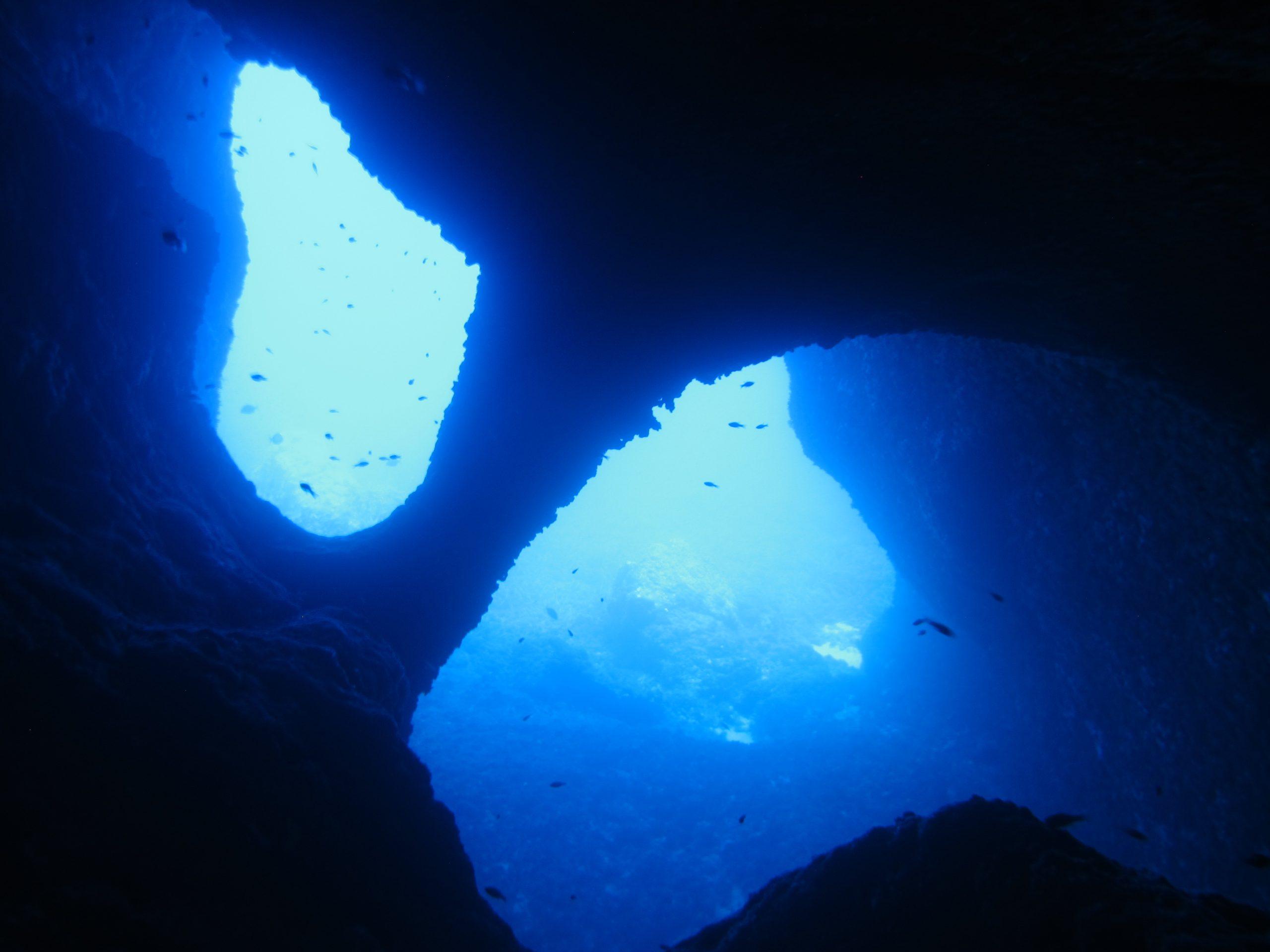 Swiss Cheese **
Hollow rock on Menorca's northern coast with a tangle of tunnels, canyons and chimneys where anyone can swim in and out to their heart's content. Swiss Cheese is one of Menorca's most famous dive sites and a "must" for cave lovers. A 50-meter path leads us to a beautiful bay, where this dive site is located. On our way to the main entrance, which is about 20 meters deep, we are escorted by barracudas. Sometimes you can even see diving cormorants! North of the entrance, about 30 meters deep, is a sandy bottom where we can see rare white gorgonians and sleeping stingrays. In Swiss Cheese, you will see scorpion fish, crabs and conger eels. In the spring, lobsters are also on display.